Skip to Content
We Are a Leader in the Steel Products Industry
Westside Materials is a leader in the steel products industry. Throughout the San Francisco Bay Area, we have delivered unparalleled products and customer service to contractors and homeowners alike. From rebar to stakes, we have it all. Our goal is to provide comprehensive coverage for all of your construction needs. We have accomplished our mission – time and again.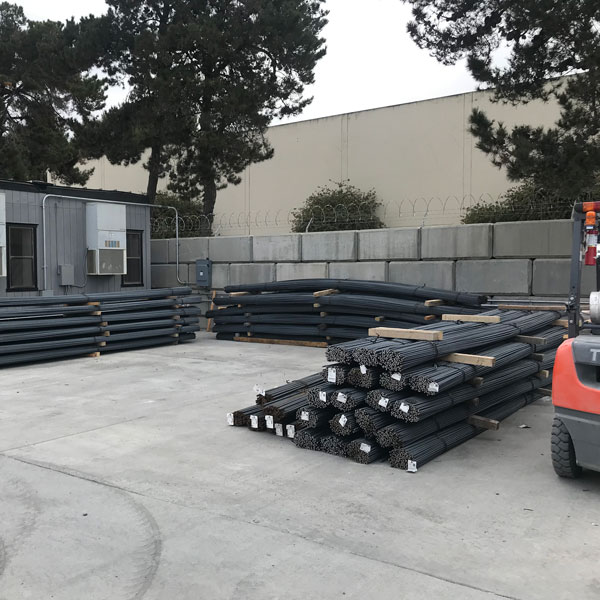 Allow Us to Deliver Steel Products to Your Jobsite
No matter what you need, you'll find it at Westside Materials. Our commitment to quality means that you'll only find durable and heavy-duty steel products at our stores. And our dedication to customer service means you have access to delivery services, ensuring you do not have to take time out of your busy day to pick up the rebar, smooth bars, dowels, stakes, or tie wires you need to complete your project.
From Rebar to Tie Wire: We Carry It All
Steel is a primary component of concrete work. We sell the rebar, smooth bars, tie wires, dowels, and stakes you need to ensure your project goes off without a hitch. Our products include:
Rebar
Reinforcing steel bars have plenty of uses, but the most common is supporting concrete applications. We sell the rebar that makes finishing your project a possibility. Our rebar passes muster with state and federal regulations and will withstand the test of time.
Smooth Bar
Smooth bars are also ideal for reinforcing concrete on construction sites. Our smooth bars will create singular monolithic concrete structures capable of withstanding massive amounts of force. If you need smooth bars, then Westside Materials is the right place to visit.
Dowels
These cylindrical rods are an essential piece of any concrete construction. They transfer loads without restricting horizontal joint movements due to temperature and moisture expansion and contraction in the concrete slabs.
Stakes
Rebar stakes hold reinforcing rods squarely in place and save hours of labor and material costs. They are perfect for use when you are pouring concrete. Ours are formed from heavy-duty materials so that you can be sure of their effectiveness.
Tie Wire
Made from annealed wire, these wires reinforce steel and are used to avoid frequent and repeated maintenance. We offer plenty of sizes and types, ensuring you find the one you need for your project.
Your One Stop Concrete Building Supply Shop